5 things you might not know about Moon Knight
Here are some of the things you probably don't know about Moon Knight.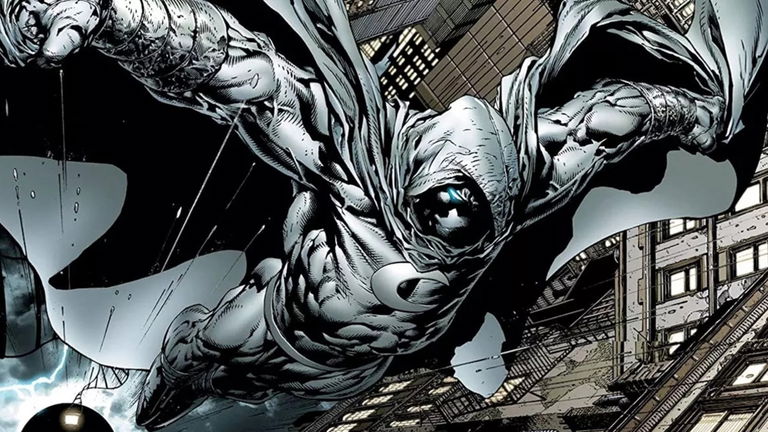 Moon Knight has been a successful series on Disney +, as this interesting character shows us a new concept and an authentic personality that has not been seen in no other hero in the Marvel Cinematic Universe. Although he has become very famous with this adaptation, the truth is that Moon Knight It has been presenting itself in different stories for a long time from the comics.
What makes this character is so unique are his psychological problems and his relationship with the Moon God Khonshu. His internal conflicts have caused him to have many problems with himself and with powerful opponents. However, although part of the story has been shown in the series, there are certain interesting curiosities that you probably do not know about Moon Knight, so in the following list we are going to show you what they are.
Marvel: Captain America Predicted The Great Controversy With The Punisher Many Years Before And You Didn't Realize It
They got his name wrong when he made his first appearance.
Moon Knight is a character created by Doug Moench and Don Perlin. His first appearance was in the Werewolf by Night comic #32 (1975), but the funny thing about this is that, according to the creators, they got the name of the character wrong, presenting him as "Mark Spector", instead of " Mark Spector". Nevertheless, in the second appearance he was accommodated as "Marc"and this is why many make mistakes when writing his name.
All Moon Knight Personalities
Some Marc Spector personalities have been featured on the series, such as Steven Grant and Jake Lockley, but in the comics there have been many more than we could imagine. Dissociative Identity Disorder has made him adapt more and more personalities that lead a completely different life, and are always in charge of fulfilling a specific activity.
Marc Specter
Marc Spector is the real and main personality of the character. This is a mercenary who, after entering an Egyptian structure and being killed by a confrontation, makes a pact with the Moon God known as Konshu, who gives him a chance to continue living with the only condition that he becomes his avatar to get rid of those individuals who have done evil deeds.
Steve Grant
In the series, Steven Grant is a shy employee in a museumbut in the comics he is a personality who has become a millionaire after doing business and is more outgoing and confident.
Jake Lockley
Jake Lockley is a serious, cold and direct personality, he is the personality who works as a taxi driver at night and is in charge of collecting information or constantly moving through dark places in the city.
Yitzak Topol
It's about a Libyan revolutionary double agent from Jerusalem who has made very few appearances when Marc returned to his religious roots.
Ian Waller
It appeared only once, and it is not known exactly if it is one more personality or a false identity used by Marc Spector, but on a mission where he had to infiltrate the Burunda nation, he had to pose as a photographer named Ian Waller who works for the Manchester Herald.
Moon Knight
The vigilante who is in charge of confronting the bandits when the moon rises, has various superhuman abilities, and varies its power depending on the lunar cycle. On the other hand, you can glide, throw objects, wrestle and has high strength.
mr knight
It would be a sophisticated and elegant version of Moon Knight, which was created after the vigilante generated too much controversy among the citizens and draw attention by leaving the bandits bloodied. Mr. Knight would become an identity that would give more confidence to the policemen who called him a criminaland would keep a low profile, as well as avoid conflicts unless the moment requires it.
Possession of personalities around you
Due to his psychological problem, Marc has also undergone changes in his identity by spend a lot of time with other peopleso it has even come to perfectly imitate other Marvel characters with whom he has lived or fought, such as the following:
Wolverines.
Spider Man.
Captain America.
Hombre de Hierro.
Threw out.
Moon Knight has merged with Spider-Man
In the 2018 Infinity Wars comic, two dimensions collide after Gamora sealed the souls of the Soul Gem universe, thus generating the Warp World universe where many characters merged. Consequently, Spider-Man and Moon Knight merged into one and were introduced as Arachknight.
In this world, Peter Parker is seriously injured in Central Park after going to the American Museum of Natural History, his uncles Ben and May are killed. because of a villain named Goblin-by-Night and he is seriously injured. However, a mystical spider of totemic energy from the ancient spiders bites him, giving him powers and dividing his life into four different personalities, the Arachnid, the Knight, CEO Peter and Science Peter.
Moon Knight has been able to lift Thor's hammer
In the Damnation event, before Thor returned mjolnir, Moon Knight manages to lift it, so it caused confusion among fans until the story's co-writer named Donny Cates cleared it up. Although Moon Knight is shown in the comic to appear to be worthy of the hammer, he is actually not, as the Hammer had just returned to Thor and there was a time when the vigilante of the moon was able to lift it without being totally worthy of it.
He is one of the most aliased characters in Marvel.
Considering all the actions and lives led by Marc Spector, it has been known by different names throughout its history:
Asset Prime.
Hooded Avenger.
Crescent Crusader.
Crescent Wrench.
Fist of Khonshu.
Fist of the Phoenix.
Fist of Vengeance.
Hero Boy.
Ian Waller.
Jake Lockley.
Lunar Legionnaire.
moon demon.
Moon Knight One.
The Moon Man.
Sergeant Specter.
Sheet face.
Steven 'Steve' Grant.
White Knight.
Yitzak Topol.
These would be the most interesting curiosities of Moon Knight and probably in the future we will see some of them come true in the Marvel Cinematic Universe.
Is Mjolnir or Aquaman's Trident more powerful?