9 gaming monitors with 2K, 1080p or 4K screens for all budgets that I recommend
While it is true that the pieces of our computer are the soul of the gaming PC, a good monitor is what allows you to enjoy them to their full potential. The offer of screens has grown a lot in recent years, so it is normal to be undecided before so many models. Today we are going to see 9 monitors that I recommend for all price ranges.
Best monitors for gaming PCs
Lenovo L27i-30
The most modest monitor in this selection comes from Lenovo. With its 27-inch size, 1080p resolution and a refresh rate of 75 Hz, it is a perfect screen for those who don't want to spend too muchbut look for an IPS panel that gives you a smooth, balanced picture.
Lenovo L27i-30 – 27″ FullHD Gaming Monitor (IPS, 75Hz, 4ms, HDMI, VGA, FreeSync, Metal Base with Phone Holder) Tilt Adjustment – Black
LG 29WQ600-W
We are going to an ultrapanoramic of the popular LG brand. With an IPS panel that comes from one of the most important firms in the industry, it has a resolution 2560×1080 and a refresh rate of 144 Hz, for an experience that is as wide as it is fluid. Its contrast, yes, is 1000:1, something that could be better, but that in this price range and with these features can be excused without problems.
LG 29WQ600-W – LG UltraWide 21:9 Ultrawide Monitor (IPS Panel: 2560×1080, 300cd/m², 1000:1, sRGB>99%); diagnosis 73cm; in: HDMIx1; DPx1; 7W stereo speakers with MaxxAudio® technology
MSI Optix G242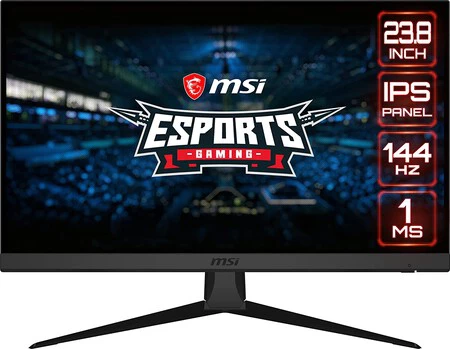 MSI also joins the competition with another 1080p monitor. This time 24 inches, but with a frequency of 144 Hz250 nits brightness, an IPS panel and antiglare cover. In addition to this, one of its great points is that it is compatible with NVIDIA's G-Sync technology.
MSI Optix G242 – Gaming Monitor 23.8″ FullHD 144Hz (1920 x 1080p, 1ms response, 16:9 ratio, IPS panel, 250nits brightness, antiglare) black
Asus TUF Gaming VG259QM
Again we continue in the land of 1080p, although this time ASUS brings us an impressive 280Hz refresh rate. If it's the smoothest action you want, this is the monitor for you. With a fast IPS panel, it also has HDR (with a mode for content and another for gaming), and shadow boost.
Asus TUF Gaming VG259QM – 24.5″ FullHD Gaming Monitor (1920×1080, Fast IPS, 16:9, 280 Hz, 1 ms GTG, LED, ELMB SYNC, G-Sync Compatible, DisplayHDR 400), Black
LG 27GN800-B
We make the jump to 1440p with a panel of LG NanoIPS with a refresh rate of 144 Hz. I also feel compatible with NVIDIA G-Syncthe monitor not only exudes features, but also has adjustable height, tilt and pivot so that you can position it as suits you best.
LG 27GN800-B – LG Ultragear Gaming Monitor (NanoIPS Panel: 2560x1440p, 16:9, 350 CD/m², 1000:1, 144Hz, 1ms), DPx1, HDMIx2, NVIDIA G-Sync Compatible, Adjustable Height, tilt and pivot, Black
Xiaomi Mi Curved Gaming Monitor
Xiaomi's ultra-panoramic bet enters to break the market. With a resolution of 3440×1440, a refresh rate of, again, 144 Hz and the inclusion of FreeSync and DP 1.4, this is an impressive 34 inch monitor which may be the new leader in the mid-range ultrawide category.
Xiaomi Mi Curved Gaming Monitor 34″ GL WQHD (3440×1440, 21:9, HDMI 2.2×2, DisplayPort 1.4×2, Height and Rotation Adjustable, 4ms, 144Hz, AMD FreeSync) Black
samsung odyssey g7
We come to one of the most impressive monitors in this collection. Samsung has spared no resources to create a true beast with 2K resolution, 32 inch size and a board QLED Samsung owner. With 240 Hz, you will be able to play everything in the smoothest way possible, also benefiting from both FreeSync and G-Sync,
Samsung G7 (C32G73TQSU) QLED Curved Odyssey Gaming Monitor 32″ (2,560×1,440 pixels,WQHD, 240 Hz, 1ms, 1000R, suitable for dual monitors, PC monitor, AMD FreeSync, G-Sync compatible)black
LG Ultra Gear 27GP950-B
Moving on to 4K offers, LG could not be missing. With its 27-inch monitor with nano IPS panel and 144 Hz often, you're going to have the sharpest experience with the smoothest action. This monitor has a brightness of 400 nits, something commendable and all kinds of ports and connections, as well as a latency of 1ms.
LG UltraGear 27GP950-B – 27″ 4K gaming monitor (3840×2160, NanoIPS Panel, 16:9, HDMI 2.1 x2, DPx1, USB-Ax3, 1ms, 144Hz, AMD Freesync, G-Sync Compatible, 400nit, 1000:1, DCI-P3>98%), Black
ASUS ROG Swift PG32UQ
We close with another 4K monitor. In this case, one of the biggest offerings from ASUS and its ROG sub-brand. Again, we have refresh rates of 144Hzbut also DisplayHDR 600, quantum dot technology and variable overdrive. It is, of course, one of the highest performance monitors you can get.
ASUS ROG Swift PG32UQ – Gaming Monitor, HDMI 2.1, 4K UHD, 144 Hz, IPS, 1 ms, G-Sync, DSC, ELMB, Variable Overdrive, DisplayHDR 600, 98% DCI-P3, Quantum Point, DisplayPort 1.4, Black