Elden Ring guide: how to defeat the giant Mausoleum with four legs and a bell that looks like Shadow of the Colossus
One of the largest enemies by far to populate the Elden Ring Midlands is the so-called Wandering Mausoleum. You can first see it south of Necrolimbo and your first reaction will probably be to turn around scared away by both its size and the specters it summons with its bell. However, there is a trick. And he is not a boss as such, actually.
If you get close to this colossus, you will see that it has no life bar and that it seems that any blow you land on it does not damage it. However, the Wandering Mausoleum can easily kill you with a stomp. So how do you defeat? Do you have to climb to the top and deal a killing blow as if it were Shadow of the Colossus? Because there don't seem to be any accessible jumps…
How to beat the Mausoleum and what it offers you next
The solution is simpler than it seems, finding the clue exactly in the lone trader's hut, right at the bottom. There you can buy a note for 600 runes that will give you the key to defeat the Wandering Mausoleum. Says the following:
To stop the advances of the Mausoleum, you must first clear around the feet.
If you approach this Mausoleum again, you will notice that, indeed, it has some "dirt" in the form of embedded skulls. So your objective will now be clear: attack these parts of the Mausoleum without getting off Torrentera so that it doesn't crush you and kill you instantly, of course. Thus in each leg of the mass.
The good thing is that you will not need to clean its four legs, but there will come a point where will end up falling by its own weight when you carry a good number of destroyed skulls. And the result will not be what you expected… Or maybe it will be.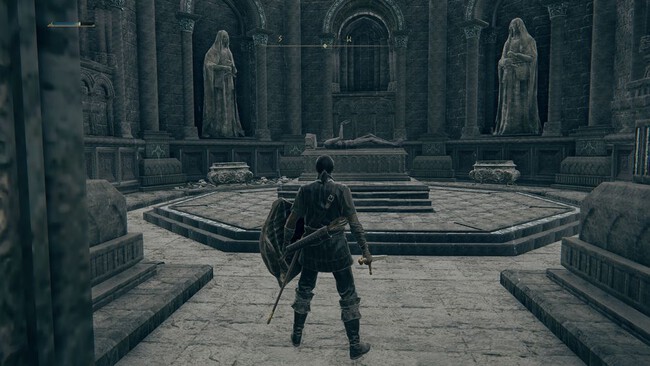 And it is that as you will verify when entering the mausoleum, there will be no boss waiting for you, but a central tomb in which you can duplicate a memory from some special boss, like Godrick's soul after defeating him in Stormshroud Castle, for example. This way you won't have to choose between consuming a memory or exchanging it with Enia's Finger reader at the Table of Lost Grace.
There is only one drawback: This mausoleum action can only be performed once. The good thing is that there are more mausoleums throughout the Midlandscbeing able to see two practically together in front of the village of the Frenzy Flame, just south of the Great Elevator of Dectus, in Liurnia, northwest of Necrolimbo.