This fantastic fan art has captured the darker and more menacing side of these huge monsters.
Attack on Titan is a work with several dark moments. From its first chapter it showed that we were facing a story where these enemies had cornered humanity, the figure of the human being being for them simple food or in the best of cases, something insignificant to them. But what if the ferocity of those who are the most powerful titans seen in the series goes one step further when it comes to illustrating them as those threatening beings that they are for humanity?
This same decided to carry out a fan in an excellent illustration that collects the 9 changing titans seen throughout history created by Isayama resulting in something really impressive.
The 9 Titans portrayed as the terrifying monsters that they are
This fan art was made by the artist jordirapturewho assures in his Reddit profile that he is passionate about terror, a taste that he undoubtedly shows when it comes to portraying these beings from his perspective: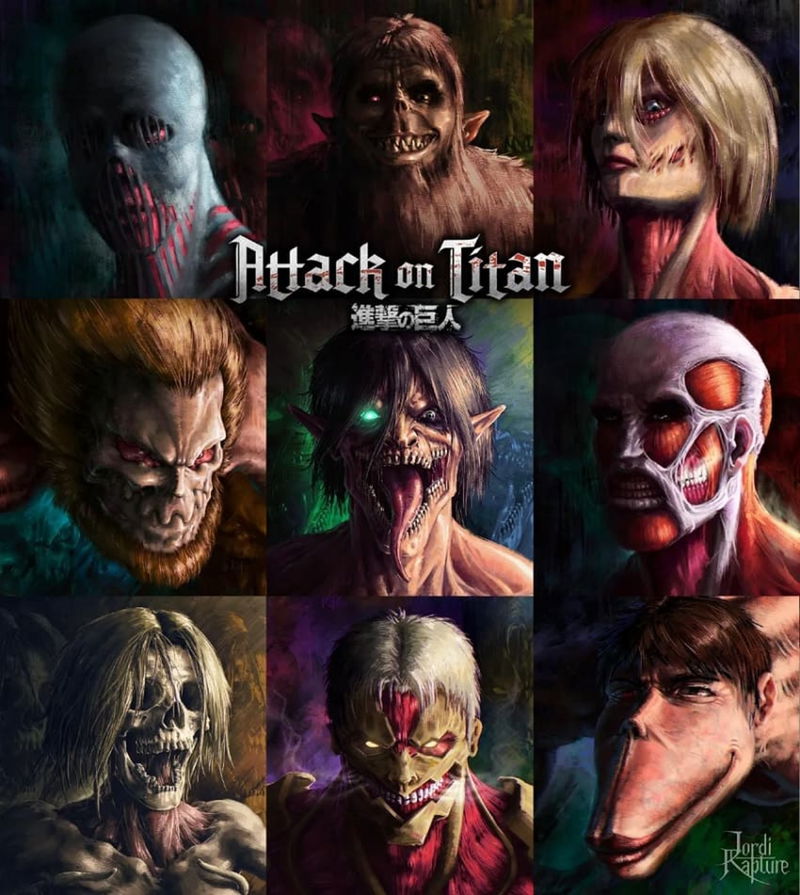 In the illustration we can see a fantastic use of lighting bringing these monsters closer to a higher realism as they are shown by MAPPA or the previous WIT animation studio, who are in charge of animating the Spy x Family series.
The artist's work impresses with many more details. The backgrounds that accompany each portrait can be considered nightmarish due to the colors chosen: cold, visceral and mixed together. Even in these same funds we can see the face of these titans as if ghostly versions of themselves were accompanying them.
The expression on the faces of these beings is something that is difficult not to appreciate. From the marked sadness that the Warhammer Titan even the demonic aspect of the attack titan leading the image in the center. The gold medal goes to Founding Titanthe most gloomy of all, represented with the titan of Ymir, whose face is directly that of a skeleton.
The anime adaptation of Attack on Titan has not finished yet, it remains to be brought to animation everything that happens in the last volume of the mangawhich includes the final climax of the series and its conclusion, loaded with drama for our protagonists, as the latest trailer shared by MAPPA already warns.