First impressions of Hogwarts Legacy
Hogwarts Legacy has scandalous graphics and very fun combat.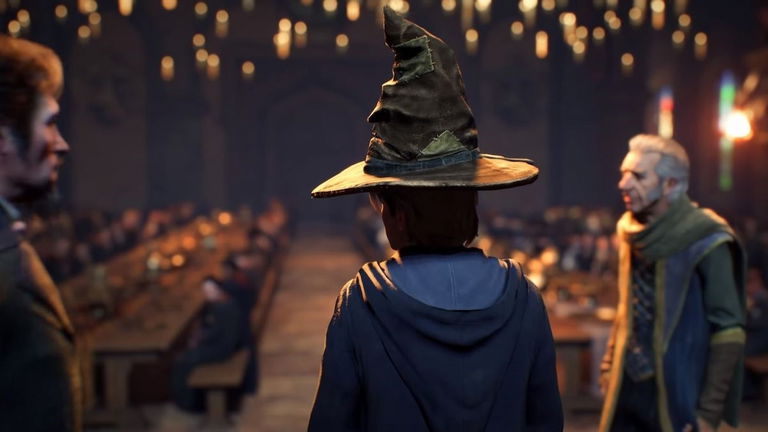 the hogwarts letter and we have become full-fledged students of the Magic School more prestigious. Yes, we are finally facing one of the most anticipated games of the year, whose delay has served to strengthen its intentions. Hogwarts Legacy is a very ambitious open world proposal that will take advantage of the PS5 graphic potential, Xbox Series X and PC. We have already been able to confirm this during an hour of play where we are presented with the main mechanics, the importance of exploration and the superb technical display.
Harry Potter fans have an unmissable date next Feb. 10. The doors of Hogwarts will be opened for a new student who has extraordinary abilities with magic, although we still don't know much about the plot. The character editor welcomes us to an adventure that has a very good package. We can confirm that we could have a good time tinkering, customizing a wizard or witch with many details.
There are different types of faces, hairstyles, skin tone, marks like freckles and scars (not Harry's) to give your character a stronger personality. It is an editor where the small details stand out, since later we will be able to choose the dress and possibly the mount. Hogwarts Legacy shows muscle in the first few minutes, where Avalanche has put in a lot of effort in creating a very realistic representation of the Harry Potter universe. and where we can feel free to discover everything it hides.
sorcerer's apprentice
That is the initial premise. We are a new Hogwarts student that the fifth year in school begins and we learn the first spells as revealio to show hidden objects. Something that we can use at any time, since it is equipped by default. This first demo focuses especially on the spell casts and the combat system, although there is also time to participate in minigames. We don't get to see the boundaries of Hogwarts (nor are we allowed to), but we did find a quiditch field little used and a clue to face a schoolmate.
The objective is move some stone balls with our Accio spell to get the highest score. After suffering a humiliating defeat, we use the broom to fly over the school grounds from where you can appreciate the grandeur of the world Created by Avalanche. And for sure it will become our favorite means of transportation in the first hours of play. But it's time to put your feet on the ground and see what Hogwarts Legacy really offers.
We explore various rooms of the Magic School such as the library with its dozens of books, gadgets and tableaux. Getting up close and seeing everything come to life is one thing we don't want to miss out on in this game. The world is magical and environment is your greatest ally to make this possible. The study makes intelligent use of many resources of the franchise for game desEsports Extrasas the Floo Powders that can be found in different scenarios, which seems to be teleportation points.
Very colorful magical combat
Something tells us that before us there is many secrets to discover, but we still don't have enough level. So we headed to a room to face a duel of crossed wands and put the game's real-time combat system to the test. We fight against other students Slytherin, Gryffindor and Ravenclaw and we have 4 spells equipped, some well known in the Harry Potter world as Levioso (or Leviosá as Hermione would say) that makes an enemy float. These may have a shield of a certain color that indicates with which type of spells we can get through it.
At any time you can change target and even throw objects from the environment with great ease. This makes the exchange of attacks very dynamic and above all showy. With Levioso you can temporarily paralyze enemies in the air, a perfect moment to launch basic attacks with the wand. Spells have a cooldown, so you can't abuse them and you have to use Protecto to activate a shield. This will prevent damage from attacks, but it is not eternal. the system is based on spells and shields in equal parts so that all enchantments are used in one way or another.
The result is very satisfyingalthough this is only the beginning. We jump into the game to explore all the possibilities of combat and the missions with level 19. We investigate a poaching camp with a schoolmate named Poppy and along the way we meet centaurs and other fantastic creatures. The path is linear, but you can collect resources like jumping mushrooms or leeches. In this section of the game we have other spells equipped that we will use later. the blues are utility spells such as the possibility of repairing bridges, although we also have fire attacks.
That only means one thing. We follow the trail of poachers until we meet a large group. The mission area is bounded and getting out of it activates a countdown that can restart it. A resource that surprises us to still find in video games. The spells we know of can be equipped on various wheels that activated with the right triggerwhich means that we can have up to 16 shortcuts in total.
The Invisibility Cloak: Stealth Is Not An Option
The fight unfolds like a spell attainment, with which we can paralyze, attract or push enemies. We can also burn with powerful fire attacks or simply throw a invisibility spell to avoid detection. Stealth doesn't seem like an option, except for very specific missions. In this case we engage in a limited area by a cliff that can be used in our favor. a little push with the right spell and you won't need anything else.
We arrive at a center where they use dragons for your entertainment. The objective is to sneak past avoid confrontation directly against a poacher. Spoiler alert: it goes wrong. We cast the corresponding spell that reminds us of the invisibility cloak and we approached before the enemy. And of course, a magician cannot be fooled. His alert indicator fills up right away and he detects us for our fatal audacity. This makes us think that secrecy cannot effectively be used to skip any battle.
At that time we used attacks like Crucio that pierces the enemy with lightning as if we were the very Lord Voldemort. This causes such excruciating pain that we see the enemy writhing without being able to counterattack. There are additional challenges that can be unlocked during these duels such as using the shield correctly or disarm enemies. Yes, there is a spell with which you can snatch their wands and a great variety that we are looking forward to trying.
The resources of the environment
The combat system is not designed to cover yourself with environmental objects, but there are certain points that can be used for this purpose. They are destructible as barrels and boxes, making the battles visually amazing. Particles everywhere shields that activate and spells that find their target. It's quite fun to fight against a large group. Thus we arrive at our *last fightwhere our protagonist wants to free some dragons that are being tortured.
Hogwarts Legacy invites us to explore each zone after the combat. It is possible to find several resources, money, cosmetic accessories Or a dragon egg. In this mission we discover the small minigames of locks, a classic of video games that fits like a glove to the world of Harry Potter. The objective is rotate each piece simultaneously to solve this puzzle with magic, of course.
We are looking forward to investigate the inventory further and all the options we have available. But it's time to save the captive dragon and defeat the poachers. This time it's a pretty big area with items destructible that can be used and some platforms with enemies. Here we see much of the combat potential and other types of very powerful enemies. The player faces an Animagus with ability to transform into a wolfmaking their movements less predictable.
We can not only use the stage debris and our spells, but we have revitalizing potions to recover life with a drink After all, the goal is to have enough mobility because staying static can be a bad idea. The player has a rolling mechanic, though does not fit the style at all of the game. The demo ends when we release the dragon, although not without some surprises.
Powerful graphics and very promising dubbing
Throughout an hour we have not been able to stop look at the screen. Hogwarts Legacy has mesmerized us with its hyper realistic graphics and cinematics that could be projected on the big screen without complexes. We've seen pretty games, but this release has a special charm. The feeling is that we have barely seen a small part of the game, where the Dubbing to Spanish it is very promising. From the hand of Warner we could expect a special treatment with the dubbing that will live up to of the game level.
The truth is that we would spend hours talking about the new harry potter gameas some know it. Although his story takes place in the 19th century, before the events of the movies. It is still early to talk about narrative level of the gameas well as the relationship with the other characters, but this first contact has confirmed that it is a video game wildly ambitious that any fan of the franchise will love.
Not only because of the elements that are used at the mechanical level, but also because it has a point of mystery that has us hooked Hogwarts Legacy combines linear quests with an open world that can be explore freely, two key pieces to feel part of history. On the one hand we really want live at hogwartsbut the real adventure is outside those walls.