Games
get the best PlayStation games for PC for much less than you think
There are always deep discounts at Eneba and you can get the latest releases for much less than the recommended retail price.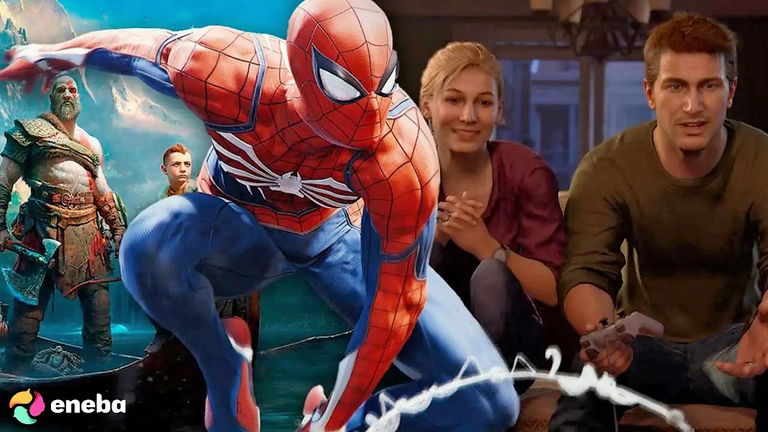 Offered by Eneba
What just a few years ago seemed completely impossible finally came true. We are talking about the arrival on PC of some of the best games that until not long ago They were exclusive to PS4 and PS5. In fact, Sony bought Nixxes in July 2021 in order to expedite everything related to the porting of PlayStation games to PC. Nixxes is a studio that before being bought by Sony was already specialized in the design, development and portability of video games.
All ports coming out for PC they are improved compared to the console version. They support ultra-wide monitors, have unlocked fps, better graphics and much more. Now, of course, everything It depends on the hardware that our computer has.. Well, it is possible to get PlayStation games that have come out on PC for much less than the recommended retail price.
The best PlayStation games for PC at knockdown prices at Eneba
Eneba is a digital game store that usually offers great discounts. It also has a buying and selling section where all those who register can buy and sell all kinds of products related to video games. Now, if we focus solely and exclusively on PlayStation games for PC, you can find real bargains.
days gone
Bend Studio did a great job developing Days Gone. The adaptation to PC went quite well and does not require a very powerful computer. It is a title of action and adventure of the world that hooks enough. You get into the skin of Deacon St. John and you have to tour the united states while trying to survive whatever. It has an RRP of 49.99 euros on Steam, but you can buy it from 8.72 euros on Eneba.
UNCHARTED: Thieves' Legacy Collection
Another great game that you cannot miss is UNCHARTED: Legacy of Thieves Collection. Includes Uncharted 4: A Thief's End and Uncharted: The Lost Legacy. They are two independent adventures that hook from start to finish. Uncharted 4 is Drake's greatest adventure and stands out for its narrative style and a very fluid and frenetic combat system. In the Lost Legacy the action scenes and mechanics of the saga are maintained. As for the adventure itself, it all takes place on the southwest coast of the Indian subcontinent. You can get UNCHARTED: Legacy of Thieves Collection from 24.68 euros on Eneba (49.99 euros on Steam).
Horizon Zero Dawn: Complete Edition
If you like open-world role-playing and action games, you can't miss Horizon Zero Dawn: Complete Edition in your Steam library. this edition includes The Frozen Wilds expansion. The protagonist, Aloy, has to reveal the secrets of a world that is dominated by machines. Throughout the awaiting adventure all kinds of missions and deadly enemies. Horizon Zero Dawn: Complete Edition is available from 10.98 euros on Eneba (49.99 euros on Steam).
Marvel's Spider-Man: Miles Morales
The latest entry in Marvel's Spider-Man, Miles Morales, came out on PC in November 2022 to rave reviews. It is a port that is very well optimized. Just ask for an NVIDIA GeForce GTX 1650 as a recommended graphics card. This version supports AMD FSR 2.1, Intel XeSS and NVIDIA DLSS 2 / 3 technologies. In addition, it supports various aspect ratios (16:9, 16:10, 21:9, 32:9, and 48:9). As if that were not enough, you can use the DualSense remote to enjoy a more immersive gaming experience.
How to Activate a Game on Steam
As in the first installment you have to walk the streets of new york, but this time as Miles Morales, the new Spider-Man. If you want to know much more about the PC port, you just have to take a look at our analysis. Marvel's Spider-Man: Miles Morales is priced at 29.99 euros on Eneba (49.99 euros on Steam).
god of war
Speaking of PlayStation games, God of War could not be missing. This installment marks a new beginning for a saga that was released on PS2. This time Kratos live like any other man in the domain of the gods. Together with his son, Atreus, they have to survive in a world that is plagued by fearsome creatures. The game supports 4K resolution, ultra-wide monitors, and is frame rate unlocked. You can buy God of War from just 20.49 euros on Eneba (49.99 euros on Steam).
By purchasing one of these games you receive a code that you must activate on Steam. Once activated you will see it available in your library. Finally, say that the price of the games can vary throughout the day. However, the same game can be sold by several sellers. Regarding the latter, it is very important look at the seller's rating.