Play Nintendo Switch with keyboard and mouse in this way.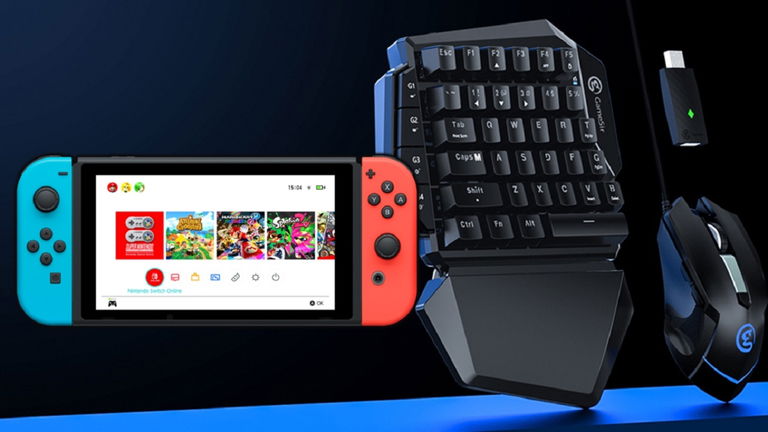 nintendoswitch it is the hybrid console that allows you to play in many different ways. One of his virtues is the ability to play on laptop or connected on television. What many people don't know is that you can also connect a keyboard and mouse on Switch to play. Two peripherals that have nothing to do with Nintendo, but can be a great help to play more precisely titles such as shooters, graphic adventures or strategy games. Here is a complete guide to play with keyboard and mouse.
And not only for games, because with keyboard and mouse you can move around the interface more quickly. Searching for games in the Nintendo eShop will be a more bearable process or redeem codes of games. In any case, there are several ways to connect these devices using an adapter or wireless technology, already present in many peripherals. Use USB Cable It's not the best option due to the limited connectivity of the Switch.
How to connect a keyboard and mouse to Switch with cable
However, the Dock has free USB ports where you can connect a keyboard and mouse to play on a bigger monitor. Before you begin, you need a console-compatible USB adapter to connect a keyboard wired On the other hand, there are keyboards designed for Nintendo Switch that will make this process much easier for you and others that can be connected directly to the Dock. One of the most recommended is the KX adapter from GZW-Shopso follow these steps to achieve your goal.
connect the adapter to the dock of Switch.
Connect the keyboard and mouse cables to the adapter.
press Ctrl + 2 on the keyboard to start.
KX adapter from GZW-Shop
Thanks to this adapter, both peripherals they will connect instantly and it is not necessary to do a configuration inside the console. yes, you can switch controls from the settings of each supported game. The advantage of this wired option is that it has a ultra low latency seamlessly for real-time action games.
How to connect a keyboard and mouse to Switch wirelessly
We already anticipate that there are some models of wireless keyboards console compatible from nintendo. This means that do not need cables through to connect directly, so you can play from the beginning without problem. In the next lines we recommend some of the best peripherals that will make your life easier, especially if you regularly play Fortnite and other competitive titles.
GameSir is an expert brand in peripherals adapted to mobile phones or consoles. has a little wireless keyboard that connects to Nintendo Switch wirelessly. It has included a receiver for that instant connection with ultra-low latency. It is one of the few keyboards compatible with the hybrid console and according to its description you only have to connect the device to start playing. With this in mind, follow these steps:
Connect the receiver into a free USB port on the Dock.
Nintendo Switch will recognize the keyboard instantly.
Configure keyboard controls from the GameSir G-Crux app.
GameSir VX AimSwitch Keyboard and Mouse
How to play Fortnite with keyboard and mouse on Nintendo Switch?
The GameSir keyboard and mouse with your own receiver it is the best option to play Fortnite on Nintendo Switch.
This is the best option available right now. Both the keyboard and the mouse are designed to work with the Switch. The keyboard works perfectly wireless, but the included mouse can be connected to the free USB port that is on the keyboard itself. Another option is use an adapter like the one mentioned. In addition to playing Fortnite as in the following video, you can also download free nintendo switch games with less effort.
Best keyboards and mice for Switch
Now that you know all the possibilities available, you can buy a keyboard and mouse compatible to test your Switch. The truth is there is not much variety, with the best options being the devices that have been mentioned in this guide. However, here is a list with the most recommended for your console.
What keyboard is compatible with Nintendo Switch?
The Nintendo Switch console is compatible with keyboards with usb adapter.
GameSir VX AimSwitch Keyboard and Mouse: It is the most popular model among Switch users and the most used. We have seen in many videos how well this keyboard and mouse works on Nintendo Switch no input lag. Not only is it very easy to connect to the console via a 2.4G wireless adapter, but it is also compatible with PS3, PS4, Xbox One, Xbox Series and PC. It has a desEsports Extrasreminiscent of the keyboards for playing with one hand, so you have all the necessary controls with 38 mechanical keys. This keyboard has lithium battery 1000mAh.
GameSir VX AimSwitch Keyboard and Mouse
KX adapter from GZW-Shop: If you have a wired keyboard and mouse at home, you can buy an adapter like this. is the cheapest optionbut it works perfectly. It has several USB ports to connect peripherals such as a keyboard, mouse, and even another controller. He desEsports Extrasis very simple and it works instantly as you don't need to install any software. Like the previous keyboard, it is compatible with other consoles and the PC to get the most out of it. This adapter is perfect if you need connect more devices in addition to those mentioned.
KX adapter from GZW-Shop
UrChoiceLtd Keyboard and Mouse: finally, you have available this keyboard and mouse with braided cable compatible with Switch, Xbox One, PS4, PS3 and PC. It has good user references and includes the adapter correspondent. A mix between the two methods to connect on Switch. The keyboard and mouse have RGB backlight with LEDs with up to 4 different colors. It has a wide range of compatibility, being able to also use it in other consoles and PC. Finally, mention that the mouse has 6 buttons with 4 DPI levels that can be adjusted, and thus you will achieve greater precision in your games on Nintendo Switch.
UrChoiceLtd Keyboard and Mouse