The regular season of divided of winter enters the definition stage, the third and last week of this instance began in the League of Legends EMEA Championship (LEC) with spectacular games, great performances and endless highlights that will remain etched in the retina of the spectators. This week has a special flavor, since being the last of the Regular Season, the eight teams that will go to the Playoffs will be defined and will compete not only for the trophy, but also for the qualification to the M: YES and the LEC Finals.
This seventh day left us mainly a excel With no margin for error, in order to get into the best eight, the British team must win the two remaining matches and wait for other results. This time he fell in front of a Heretics extremely superior that 26 minutes were enough to put an end to the game and leave them on the brink of the abyss. The other team that walks on the ledge is Astralis, the Danish team with a Finn in MVP mode, he beat SK Gaming at the opening of the day and with a 2-5 record, mathematically it still has opportunities to classify Playoffs.
In the final stretch of the day we have had the spectacular victory of G2 Esports about BDS with a great performance caps, he midlaner Dane has taught with Ryze and once again demonstrated why he is one of the best in his position leading G2 to a new victory that already places them in the Playoffs. Finally the closing of the date came with two overwhelming victories, on the one hand mad lions with elyoya completely 'on fire' defeated Fnatic; while koi did the same before Vitality.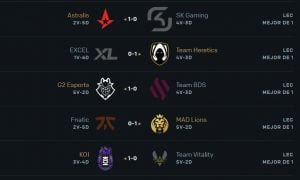 The LEC defines its qualifiers
Just two days before the Regular Season of the divided winter comes to an end, we find three teams without risk of being left out: Vitality, G2 Esports and mad lions; while the remaining seven squads, although some with more possibilities than others, could get a ticket for the next instance in the coming days. Next we leave you the games corresponding to the Day 8 and 9 of LEC.
Matchday 8 – Morning
SK Gaming vs. EXCEL;
Team BDS vs. Vitality;
Heretics vs. MAD Lions;
Astralis vs. Fnatic;
G2 Esports vs. KOI.
Matchday 9 – Monday
Team BDS vs. heretics;
KOI vs. Astralis;
SK Gaming vs. Fnatic;
MAD Lions vs. G2 Esports;
Vitality vs. EXCEL.
More in our section League of Legends.