Skydance presents its first video game within the Marvel universe.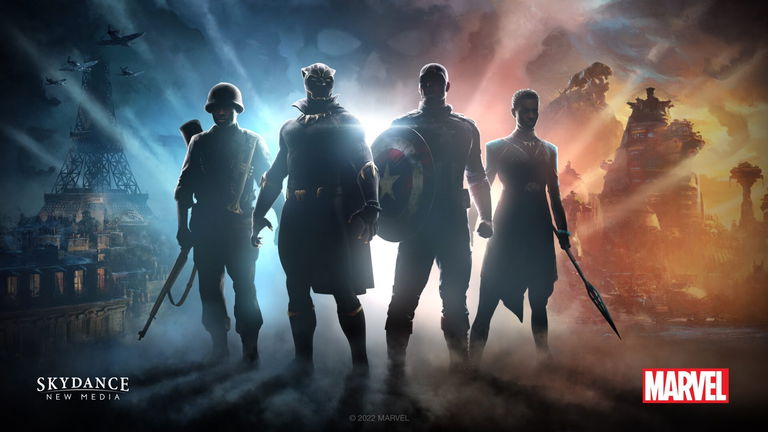 Yesterday, rumors pointed out that Amy Hennig would be working on a Marvel game starring Captain America and Black Panther. However, it was not until a few hours ago that it was confirmed that this Marvel project announced at the end of last year will effectively star the two Avengers alongside two additional heroes.
Marvel | Skydance New Media Project, provisional name of the project, has been presented through a brief teaser trailer that advances four Heroes, two worlds and a war. This new triple-A game will feature an ensemble cast and an original story set in the beloved Marvel Universe.
Although no additional details of the game have been shared at the moment, so its plot, gameplay, launch platforms or release date are not confirmed, the truth is that the trailer coincides with the rumors: Steve Rogers (Captain America); Azzuri, grandfather of T'Challa (Black Panther); Nanali, leader of a Wakanda information network; Y gabriel jonesan American soldier, will be the protagonists who will be willing to face the Hydra forces during the Second World War
What to expect from the Marvel and Skydance project
The new Marvel video game will be directed by amy hennig, who was the writer and creative director of Uncharted as well as the director of Jak 3, along with Todd Vaxwick, with whom she began developing the promising Star Wars Ragtag, a canceled project that was to offer a Star Wars adventure with touches of Uncharted. However, Amy now has her own studio, which is preparing this project along with a new Star Wars game.
"The Marvel Universe embodies all the action, mystery and excitement of the pulp adventure genre which I love and lends itself perfectly to an interactive experience", Amy advanced in her day. "It's an honor to be able to tell an original story with all the humanity, complexity and humor that makes Marvel characters so enduring and to allow our players to embody these heroes they love.".