Now you can have all your Switch games in one place without worrying about the remaining space.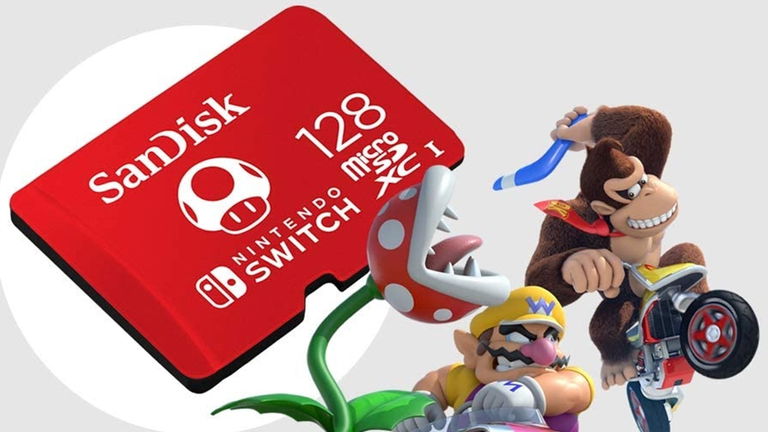 If you have a Nintendo Switch or a mobile that supports micro SD cards to add more space, you are in luck, because this 128 GB card just dropped 55% on amazon leaving its final price in just 39.99 €17.99. The collapse is brutal and the quality of the card is indisputable coming from a large and specialized company like SanDisk.
In addition, this model has official nintendo license, that is, you will not have any problem of incompatibilities with your Switch. Its 128 GB will be enough to put multitude of games Well, those of Switch occupy a maximum of 8 GB, with the exception of Zelda, which can go perfectly to 14 GB. If you need more spacethe 256 GB model is 62% off.
SanDisk microSDXC (128GB)
Get the best-selling SD card for Switch
Having memory to spare on your mobile device or handheld console takes a worry off your mind. Not having to worry about how much storage you have left is key to go quiet, I tell you that I have a mobile with 256 GB and I have never exceeded 40% occupied in 4 years.
This micro SD card from SanDisk has the unique design of the mushroom from Super Mario Bros. in a red background and the letters in white. At a functional level it has high speed reading (100 Mbps) and writing (90 Mbps)to quickly save your games or transfer music from your PC or mobile easily.
Having a quick card gives you life during a game.
In it you can save both matches and full games that you download from the Nintendo Shop. You can too take the card to a friend's house and put it in his Nintendo Switch to continue your games with him or transfer your achievements.
SanDisk microSDXC (128GB)
Go fully digital with one card high capacity and speed micro SD, you no longer have to buy physical games that sometimes get lost in your backpack or drawer. Download it directly to your SD card and have them all there. You may buy several units (total, for the low price they have) and have a backup of your games and games just in case.