2023 began with great events and surprises, one of them was undoubtedly the debut of the kings league and with it a resounding success in the community that not everyone expected. The soccer competition that organizes Gerard Piqué and which has 13 content creators as protagonists, has had great results in these first four days and the statistics provided by the site Stream Charts They are a true reflection of the popularity of a tournament that is clearly here to stay in the community.
January in twitch It was quite busy, the fact that it was the first month of the year did not prevent the different content creators from carrying out such crowded broadcasts. Globally, the Canadian Felix Lengyel better known as «xQc» once again led the category «Most Popular Twitch Channel«, based on the number of hours watched xQc It registered almost 13 million hours watched (12.94M more precisely), a huge figure that the Canadian has already accustomed us to, however in this first month of 2023 a new channel appeared that comes to fight xQc: the kings league.
the channel of twitch of the kings league In its first month, it registered a little more than 11 million hours watched (11.02M) in 42 hours and 50 minutes of transmission, nothing compared to the almost 232 hours of xQc. The kings league came to crash twitch and place the Spanish-American flag a little higher on the famous platform. During February we can expect the arrival of a new large audience group to the competition's channel, which will cause these figures to take a significant leap at the end of the month.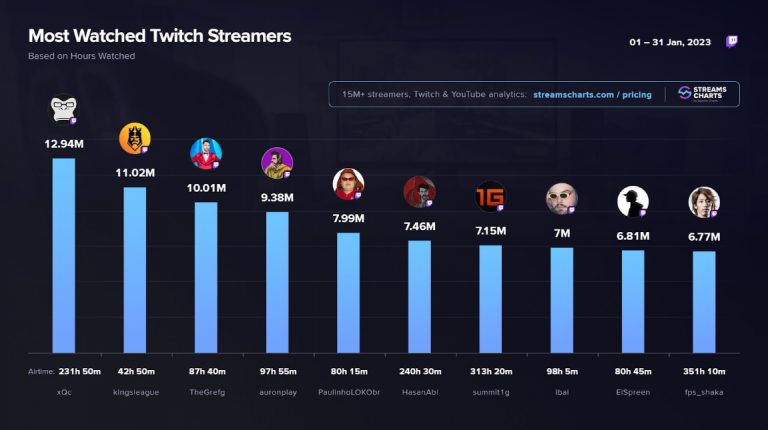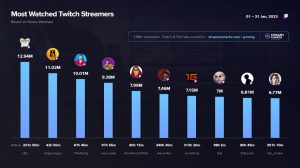 Five Hispanic channels within the Top 10 in January
Although it has been a resounding success, the kings league was not the only Hispanic channel to enter the top 10 of Twitch, Following closely in the ranking we find him at TheGrefg that thanks to the crowded and historic transmission of the ESLAND from Mexico they reached a total of 10.01 million hours viewed, which served to surpass another Spaniard: Auronplay.
Auron with Minecraft Extreme It has been one of the most popular channels on the platform, in total the USAstreamer recorded more than 9.3 million hours viewed throughout January to place the Hispanic community with three representatives within the Top 4 on Twitch. But this does not end here since a few more relegated positions in the same category we find Ibai Already Spreen with 7M and 6.38 million hours viewed in the month, which places them in position 8 and 9 of TwitchGlobal.
More in our section Community.