Get this Diswoe controller for the Nintendo console at the best price on Amazon.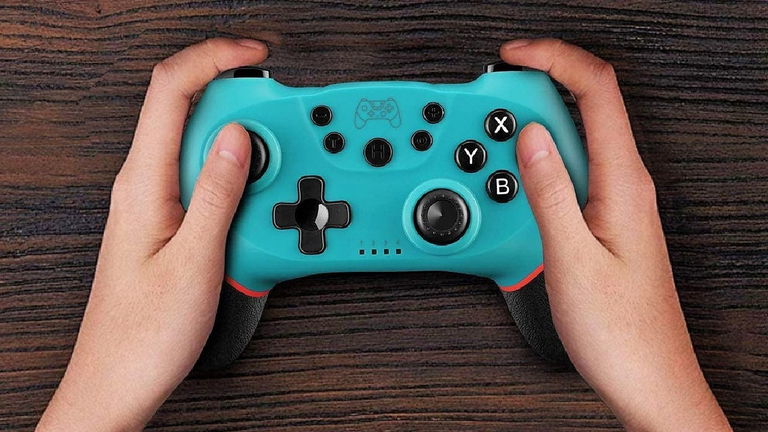 When we go to buy a cheap controller for Nintendo Switch, they usually don't have vibration and you can't connect wirelessly, but there are always some exceptions. For example, there is a brand that is not very well known, Diswoe, it has a controller that is quite complete at the function level and very affordable.
This controller for Nintendo Switch is one of the best sellers on Amazon. Have more than 11,000 reviews and a score of 4.4 stars out of 5. So it's a safe bet. It's worth it, even if it doesn't have an official license. In addition, at the ergonomic level it is very comfortable. At the bottom there is non-slip rubber that improve grip. By the way, it is worth mentioning that it is compatible with PC
Controller for Nintendo Switch Diswoo (2022)
Get the Diswoe Wireless Controller for Nintendo Switch 32% cheaper on Amazon
There are several features to highlight the Diswoe command. It has a turbo function, adjustable vibration (3 levels) and a gyroscope. When playing you can connect it via Bluetooth or USB cable. On the other hand, being a controller for Nintendo Switch, the Home, menu and capture buttons could not be missing.
It's time to stop along the way to talk about battery life. According to Diswoe, it can work 8-10 hours on a full charge. Here we could say that it complies, without more. It has nothing to do if we compare it with the autonomy of up to 40 hours offered by the Nintendo Switch Pro controller battery. However, the latter is much more expensive. It is priced at 69.95 euros in Game.
Controller for Nintendo Switch Diswoo (2022)
You can buy the Diswoe Nintendo Switch controller for only 26.35 euros (before 39 euros). They are 12.65 euros less than the recommended price. If you are looking for a cheaper controller you can get the HORIPAD for 16.99 euros (43% discount). The latter is officially licensed by Nintendo.