The LG UHD 4K TV costs only 389 euros with this offer.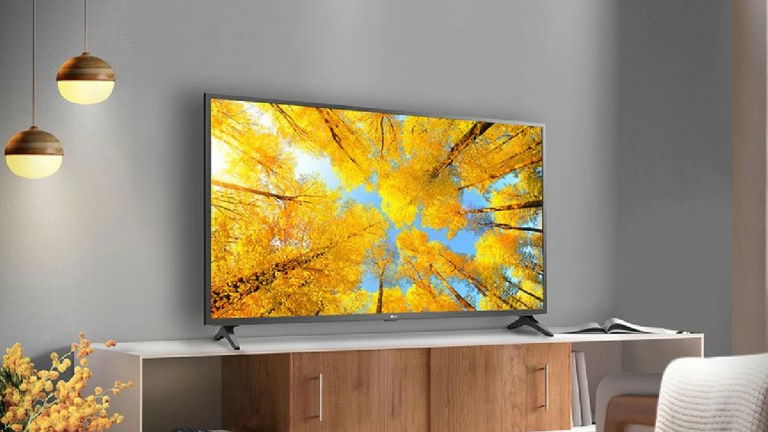 Many players wonder if it is better play on a gaming monitor or on a TV. Several factors must be taken into account, beyond the Screen size. Still, playing video games or watching movies on an LG television with 4K resolution it is a very immersive experience. At Amazon you can find the 50-inch LG Smart TV for only 389 euros, its historical minimum price, with a discount of 29% that you can take advantage of. This supposes a considerable reduction of 160 euros total.
It is true that there are many televisions on the market. However, it is rare to find a current model so cheap like this LG Smart TV. Now you have a discount of 29% which translates into a discount of 160 euros in the final price. Without it this television would cost 549 euros, so it is a good offer for change your tv. Although it is a good choice to play with the console, you also have a buying guide with the best 4K TVs to squeeze the graphics of the new generation of video games.
TV LG 50UQ75006LF
The 50-inch LG TV is available for 389 euros on Amazon
This TV offers superior picture quality with more vivid colors and enhance the details with 4K resolution. It is a screen with slimmer design and narrow frames to give a wider and cleaner view. Like many current models, the LG TV has HDR10 Pro format that allows you to adjust the brightness and clarity of images automatically, achieving a result very realistic.
The television that we highlight for its offer is that of 50 inches, but you can see other dimensions in the purchase link. The screen measures 126 centimeters and has 50-60Hz refresh rate. Google and Alexa voice assistants are integrated, in addition to having technology Bluetooth 5.0 to connect different devices. Lastly, it is worth noting the Dolby Digital sound that amplifies the audio experience to make it more immersive.
TV LG 50UQ75006LF
In conclusion, it is a television with good features for watch movies or play video games with 4K resolution. The 50-inch LG UHD TV it costs 389 euros on Amazon because it has applied a 29% discount. So you can save up to 160 euros on the final price.